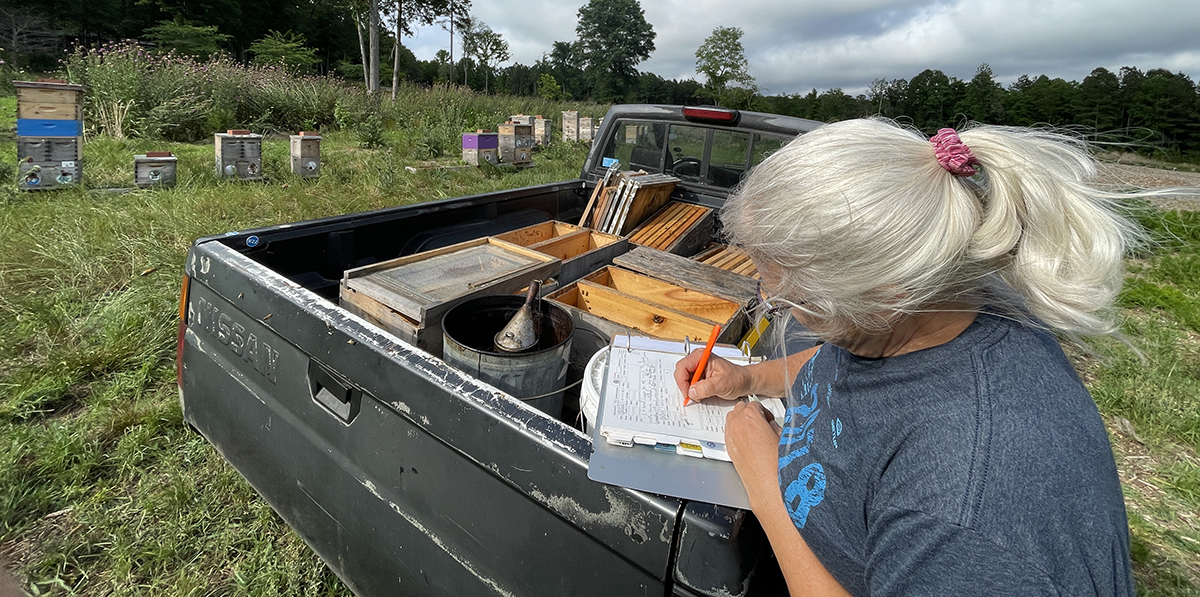 We are located at 635 Frosty Meadow Drive in Chatham County, North Carolina.
Kory Goldsmith

Kory grew up in Denver, Colorado. In 1984 she rode her bicycle to western North Carolina to learn about organic gardening at a research and demonstration facility run by the Mother Earth News magazine. That's where she met Daniel who was the resident beekeeper. Kory moved to Chapel Hill to attend law school in 1987 and to Chatham County in 1994.  

She kept bees on and off as a hobbyist until 2018 when she came home one day to find Daniel had purchased 10 nucs, all sitting on the back porch waiting to be installed. Since then she has helped build a sideline nuc business composed of several apiaries in the northeast portion of Chatham County which focuses on rearing Caucasian/VHS queens.

Email Kory at: kory@FrostyMeadow.com
Daniel Harnden

Daniel grew up in Atlanta Georgia where he fell in love with honeybees while watching them in his fifth grade science classroom. By 1984 he was the beekeeper for the Mother Earth News magazine Eco-village in western North Carolina. After meeting and marrying Kory, they both went to school in Chapel Hill North Carolina while continuing to maintain colonies in Western North Carolina. .

By the late 1990s Daniel moved the colonies to Chatham County and introduced stock purchased from Steve Tabor that included Buckfast, Minnesota hygienic, and Cordovan varieties of honeybees. In 2018 his beekeeping hobby turned into a sideline business producing honeybees for sale to other beekeepers. Current projects include developing a local Chatham County strain of honeybees founded on Caucasian/VHS genetics.

As with any small business, Daniel wears many hats including that of IT and content production. View this video documenting a swarm from our observation hive and other content on his YouTube channel.

Email Daniel at: daniel@FrostyMeadow.com
Greg Wolgemuth

Beekeeper extraordinaire Greg Wolgemuth's advice has been critical to Frosty Meadow's success. His advice to install an observation hive has taken our beekeeping to another level. We have consulted him on all aspects of nuc preparation and our nucs are stronger and healthier for it.